Spanish Prime Minister Pedro Sanchez narrowly won a second term during parliamentary elections Thursday after approving an amnesty deal for Catalonian separatists that polarized the nation but secured him the necessary votes among lawmakers from the country's north.
After taking a razor-thin majority in the lower parliament - 179 votes of confidence out of a total of 350 lawmakers - Sanchez, a socialist, avoided a national election that could have seen him replaced as public opinion of him wanes.
Hundreds of thousands of Spaniards have taken to the streets to protest Sanchez's decision to grant amnesty to Catalonian separatists, who last rallied for secession in 2017.
Detractors say Sanchez's deal was unconstitutional, but for the prime minister, it was a sure avenue to reelection, settling months of uncertainty over who would lead the nation for the next four years.
In July, Spain held national elections. Sanchez's center-right opposition, the Popular Party, received more votes but failed to take power because of its alliance with the hard-right Vox party, which came in third.
Thursday's vote in the parliament means that Sanchez can now build a new progressive coalition to advance his pro-European Union policies, which have invigorated the nation's economy.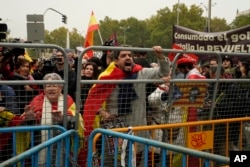 People protest the investiture of Spain's acting Prime Minister Pedro Sanchez after he was chosen by a majority of legislators to form a new government in the Spanish Parliament in Madrid, Spain, Nov. 16, 2023.
Outside of the building where lawmakers cast their votes, hundreds of right-wing demonstrators chanted and rattled a makeshift barricade.
Spain's judiciary has denounced Sanchez's amnesty deal as a violation of checks and balances. The European Union is still considering whether the pact was legal.
'I told the president that he had made a mistake, but he is the one responsible for it. The amnesty is the worst way to start the legislature,' Alberto Nunez Feijoo, who leads the Popular Party, said after Sanchez received a round of applause from his Socialist boosters for winning.
Sanchez's government plans to use the tens of millions of dollars it has left over from the European Union's post-pandemic recovery program to work on green energy projects.
If history is an indicator, it will be difficult for opposition groups in parliament to gather enough support for a no-confidence vote to topple Sanchez's government. The only time a no-confidence vote successfully ousted a Spanish prime minister was in 2018, when Sanchez came into office.
Some information for this report came from The Associated Press.